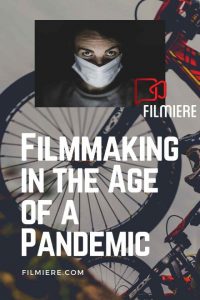 COVID-19 Pandemic affected every aspect of life. Closed restaurants, bars, clubs, and other entertainment venues such as movie theaters and playhouses became the norm around the world. With most countries allowing only what was deemed as "essential" businesses to remain open with tight restrictions, television and film production came to a halt.
Bollywood and Hollywood, names that signify the giants of movie, television, and media production closed. This closure left 100's of thousands of actors, producers, directors, technicians, musicians, writers, graphic designers, and others associated with the industry unemployed. Some within the industry were still able to work on preparing future projects by working from home, however, for the most part, television and movies faded to black.
As world health experts tackled the pandemic, safety protocols were announced that led to the gradual re-opening of businesses. Each industry had to re-evaluate how they would conduct business in the age of COVID-19. Bollywood and Hollywood were no exception.
High budget films with scheduled theater release dates had to reschedule, some already multiple times. Others such as Old Guard, a blockbuster major motion picture ready for release in theaters at the beginning of the pandemic, opted for other outlets such as live streaming on Netflix. Although Hollywood and Bollywood are terms used to encompass the giants of the industry, under the umbrella of those terms, are thousands of individual film, video, and media projects. These include some of the world's largest production companies, highest-paid actors, directors, producers, and professionals, it also includes thousands of independent filmmakers looking for their opportunity to be recognized within the industry.
While Bollywood and Hollywood include production companies with massive financial reserves, even their budgets were drastically affected by months of inactivity. For many independent filmmakers, financing is always a problem. During the shutdown most independent filmmakers were able to preserve their budgets because unlike the major players, they do not have to maintain the expenses of overhead while waiting to film. The flip side of this coin is that when production begins again independent filmmakers may not be able to pay for new health protocols for cast, crew, and location usage.
Hollywood and Bollywood spent the shutdown time preparing for a new normal that will include COVID-19 testing for cast and crew, sanitizing equipment, sets, and locations along with budgeting for unexpected delays caused by positive tests for the virus among leading characters.
Filming Delayed by COVID-19 Talent
As Hollywood and Bollywood begin to film again under the precautions and guidance issued by world health organizations, they are coming face to face with the new reality that will affect their sets and budgets.  One of the first major films to hit the restart button was The Batman, directed by Matt Reeves. Just days after the set was reopened to film the newest epic for the Batman franchise, lead actor Robert Pattinson tested positive for COVID -19. After waiting for over 5 months to begin shooting what is sure to be a Hollywood blockbuster, the set was closed. This will undoubtedly affect the budget of this film project as the delay means that the product will be on the hook for salaries of cast and crew while a determination is made as to when shooting can begin again.
For a large production company with a budget of over $100 Million, a shut down is a financial inconvenience, however, it is not a deal-breaker. Unlike the deep pockets of major studios, a shut down like this could break the bank and end the project for an independent filmmaker. Caution and planning are watchwords of the day for any independent video and filmmakers who are anxious to follow Hollywood and Bollywood into the world of filming during a pandemic.
Testing New Film Making Methods Proves Successful
Bollywood producers and directors are preparing to start filmmaking again with new protocols, ideas, and methods in place. India's The Gone Game starring Shweta Tripathi and Sanjay Kapoor was shot entirely at home. With cast and crew coordinating by phone, document sharing, and online chat they could only complete about 3 minutes per day, but they were successful in completing the project. The Gone Game is an example of the new normal for large production companies and could serve as a blueprint for independent film, video, and television makers. Head of Voot Select, Viacom18, Farzad Palia said that they realized early in the pandemic that it may provide them a chance to be first in a new process of filming in isolation. Each of the actors, cast, crew, directors all participated in the project from their own homes or locations.  They completed this four-episode series under the restrictions imposed on their craft by the pandemic.
Independent filmmakers can coordinate in the same way to complete or begin their projects by becoming Members of Filmiere. This combination social media/classified platform dedicated to film making was unveiled just as the pandemic was taking hold, it could not have come at a better time for those engaged in independent film production. Members include filmmakers, directors, producers, writers, actors, editors, musicians, and all the professionals associated with video, media, and film production. With The Gone Game forging a new path in collaborative film making from isolation, Filmiere offers the same opportunity to enlist and work with a cast and crew online for the independent filmmakers and associated professions.
Of course, the new normal requires a new vision, Bollywood may not be able to produce musical scenes featuring hundreds of dancers, and Hollywood may not be able to produce large action battle scenes right now, but they will quickly figure it out.  Using green screens, the new amazingly realistic computer animation and editing techniques, technicians, special effects masters, and editors will become the new stars of post-COVIDD-19 film and television production.
The Newest Department on the Film Set
New ideas, new methods, new precautions will all be a part of the post-pandemic world in everyday life as well as on film, television, and media production studios. Some of the behind the scenes professionals who have always been integral in the magic of film making will rise through the ranks to be the most sought after and catered to within the industry.
Always a major part of every film and television production that lurks behind the scenes is the amazingly talented makeup artists. In a post-pandemic new normal, the makeup department may have to take on a new role or incorporate a new department within their duties. Personal Protection Equipment (PPE) will become a significant part of all post-COVID-19 productions. Whether it is incorporated under the talented makeup departments or developed into a new department, it will be essential to the new normal of filmmaking.
Independent filmmakers should be aware and adjust budgets to accommodate the need for PPE personnel on your first post-COVID-19 production. The temptation to start shooting is pulling on everyone's creative soul, it should not be done without proper planning, protections, and health protocols in place. Even in the post-pandemic new world order, it can be lights, camera, action, guided by new ideas, new visions, and most of all safety in place.
Written by Daniel Dachille